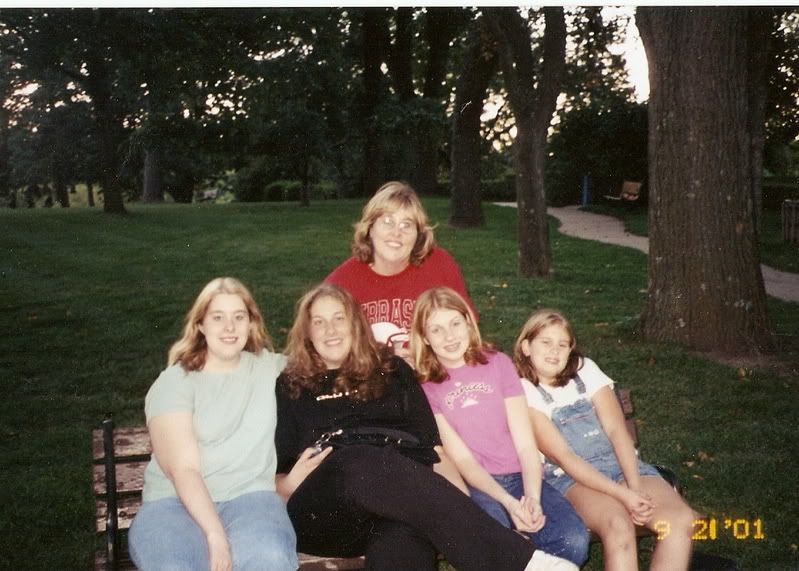 My mom and us 4 girls. I'm the littlest one! :)
 A capable, intelligent,
and
[
b
]
virtuous woman—who is he who can find her?
I can. That's my mom.
It's hard to put into words what my mom means to me. How can I fully express my gratitude for the things she has done for my sisters and I throughout the years? I don't think I can.
Dear Mommy,
Did you know that when I was a little girl I loved to snuggle up to you just to hear your heart beat? As far as my little world was concerned you were my safe place-that's why I always wanted to sleep in your bed with you. As I got older 10, 11, 12, 13 I would still sneak in your bed at night from time to time. Even though my sister's thought you were babying me for allowing it-you still let me. Thank you for that.
Dear Mommy,
I think back to all of the times that I made a mistake, something that was out of my control. You never once criticized me or belittled me. Oh how I needed that! When you're only 3 feet tall the big world often makes you feel alot smaller-but you never aided the world in that aspect. I saw the opposite in so many other moms that I knew of-how did I get so blessed?
Dear Mommy,
Pot roast in the oven on Sunday? If one of your babies complained of an empty stomach it was! For if you knew one of us was hungry it didn't matter how tired you were that week-you would make it for us. Literally baked with love. If we had a friend who was alone and needed to be fed you would drive to their house to pick them up, I pray that someday you know the impact you made in their lives.
Dear Mommy,
I'm a mommy now as you already know and I often sit and think of this sweet babe growing inside me. Did you do that when you were pregnant with me? I often pray for this little life that God is knitting inside me and think about the amazing things she will bring into our life. I'm sure you did that with us.
Dear Mommy,
I pray that God would make me to be a mother like you. A mother after His own heart.